One of the best things about PENPEX is that it is a great place for beginners to exhibit for the first time and for veteran exhibitors to try out new ideas.  We may not be the biggest show around but our PENPEX leaders work hard to provide quality judging and a learning atmosphere for all levels of collectors.
If you have never exhibited before, you can start learning about it by visiting the American Association of Philatelic Exhibitor (AAPE website).   Formed in 1986, the AAPE shares and discuss ideas and techniques geared to improving standards of exhibit preparation, judging, and the management of exhibitions.
See: PENPEX 2017 Palmares
Prospectus – Prospectus – Rules and Regulations Rules and Regulations
(Rules are subject to change without notice)
GENERAL INFORMATION: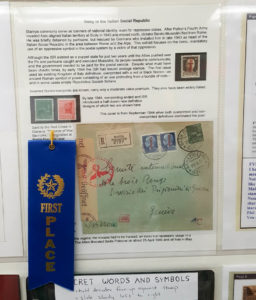 The PENPEX Stamp Exhibition is GENERAL INFORMATION: planned and organized by members of the Sequoia Stamp Club and the Redwood City Recreation Department. The PENPEX Committee and the club, their members, the city and its employees assume no liabilities. Owners of exhibits must provide their own insurance. Reasonable precautions, including providing an overnight guard, will be taken. The show will take place on December 2 – 3, 2017, at the Redwood City Community Activities Building, 1400 Roosevelt Avenue.
ELIGIBILITY:
Exhibiting is open to all philatelists. Novice exhibitors are happily invited and encouraged.
ENTRY:
All exhibits must be entered on the entry form. The Exhibits Chairman reserves the right to accept or reject any entry. Exhibits Chairman may reassign exhibiting category. Any exhibit having received a gold medal at an APS National show is ineligible. Exhibits must be the bonafide property of the exhibitor. There are no entry fees. Title pages and synopsis for categories A – D should be submitted with entry form. Closing date for entries are generally a month before the show opens unless filled prior to that time.
EXHIBIT CATEGORIES: 
There will be five categories of exhibits.
A. Multi-frame exhibits frame exhibits frame exhibits –8 frame maximum.
B. One-frame exhibits frame exhibits frame exhibits
C. Youth exhibits Youth exhibits Youth exhibits -Exhibitor must be under 18 as of 12/1/17. The exhibit must be his or
her personal endeavor.
D. Display philately or postcard exhibit ly or postcard exhibit ly or postcard exhibit – 8 frame maximum; a display of philatelic and supporting collateral material or a postcard exhibit.
The next category is open to Sequoia Stamp Club Members ONLY:
E."My Favorite Things" "My Favorite Things" "My Favorite Things"–1 to a 4-page maximum. Up to 4 entries will be accepted from a Sequoia Club member. Displays may be a maximum of 4 single pages on different subjects OR up to 4 pages on a single subject.
Non-Competitive Competitive – Competitive or Court of Honor or Court of Honor or Court of Honor exhibits will be invited only if space is available.
FRAMES:
Standard aluminum exhibit frames (WSP style) will hold 16 pages, 8 ½ x 11, four per row in four horizontal rows; exhibitors exhibiting space equals 1 square meter to be filled as desired.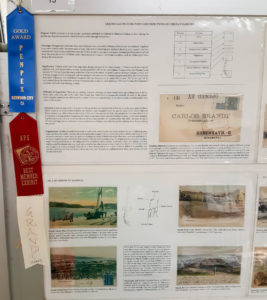 JUDGING AND AWARDS:
Judging will be by a Council of Northern California Societies approved jury. All exhibits will be judged on their own merit. There will be one grand award.
Reserve grand awards will be presented in the A and B categories.
Awards include: Large gold, gold, large vermeil, vermeil, large silver, silver bronze, and bronze awards will be decided by the jury. There will also be national society awards, most popular and novice awards. Decisions of the judges are final. As there is no entry fee, medal award will be in the form of certificates, suitable for framing, in presentation folders.
Awards – these are subject to change from year to year.  2017 Awards included
PENPEX Grand – Best Exhibit in Show
PENPEX Reserve Grand Awards for best exhibit in each category
PENPEX Certificates: Large Gold, Gold, Large Vermeil, Vermeil, Large Silver, Silver, Silver-Bronze, and Bronze
Special Awards
American Association of Philatelic Exhibitors (AAPE): Two Award of Honors
American Philatelic Society (APS) Certificate: Best exhibit by an APS Member
American Topical Association (ATA) Awards
Best multi-frame exhibit
Best single-frame exhibit
Special prize – a handbook for a topical exhibitor who has not received a vermeil at a World Series of Philately Show
National Stamp Dealers Association (NSDA) – "People's Choice Award" for most Popular Exhibit voted by show attendees
Best Exhibit by a Sequoia Stamp Club Member
United States Stamp Society – President's Award: Best U.S. exhibit of postage, revenue, or stamped paper and its administered areas
Women Exhibitors (WE) – Sterling Achievement Award: Most promising exhibit receiving a silver or lower award
DELIVERY AND PICK DELIVERY AND PICK-UP:
Exhibits must be brought to the show, mounted, dismounted, and removed from the show by either the exhibitor or the exhibitor's agent. PENPEX committee members may be available to offer assistance. Arrangements for mail-in exhibits will be made.
Exhibits may be mounted Friday evening, between 5 – 7:00 PM or Saturday, December 2, between 8 – 9:30 AM. Exhibits must be removed immediately at the close of the Show at 4:00 PM on Sunday, December 3, 2017. Additional information and arrangements can be made with the Exhibits Chairman.
ACKNOWLEDGMENT:
Entry application will be acknowledged personally, in writing or by email.
ACCEPTANCE OF RULES AND CONTACT INFORMATION:
Signing the entry form denotes acceptance of PENPEX show rules and regulations.  Registration for the show begins in June.    If you have questions please send them to the Exhibit Chair:  Ed Bierman, edbierman46@gmail.com or mail to 2266 Vera Ave., Redwood City, CA 94061 – email is preferred.
PENPEX Results
Thank you to all who attended!
Contact Information
The Sequoia Stamp Club & PENPEX meet at the:
Community Activities Building (CAB)
1400 Roosevelt Ave
Redwood City, CA
Google Map
Email:
PENPEX Leader
Sequoia Stamp Club
The mailing address for both:
P.O. Box 235
San Carlos, CA 94070